Almen Strips
PeenCheck testing and certification of Almen Strips adhere to stringent quality requirements.  PeenCheck Almen Strips are the best finished product for shot peen service providers worldwide. Certificates of conformance are supplied with each shipment. Our strips are produced and sold in three standard grades identified as "A", "N" and "C". Our test strips equal or exceed all requirements of SAE Standard J442,  AMS-S-13165 and AMS 2432. They are made from SAE 1070 C.R. spring steel with No.1 edge.
Call us to today to discuss your needs.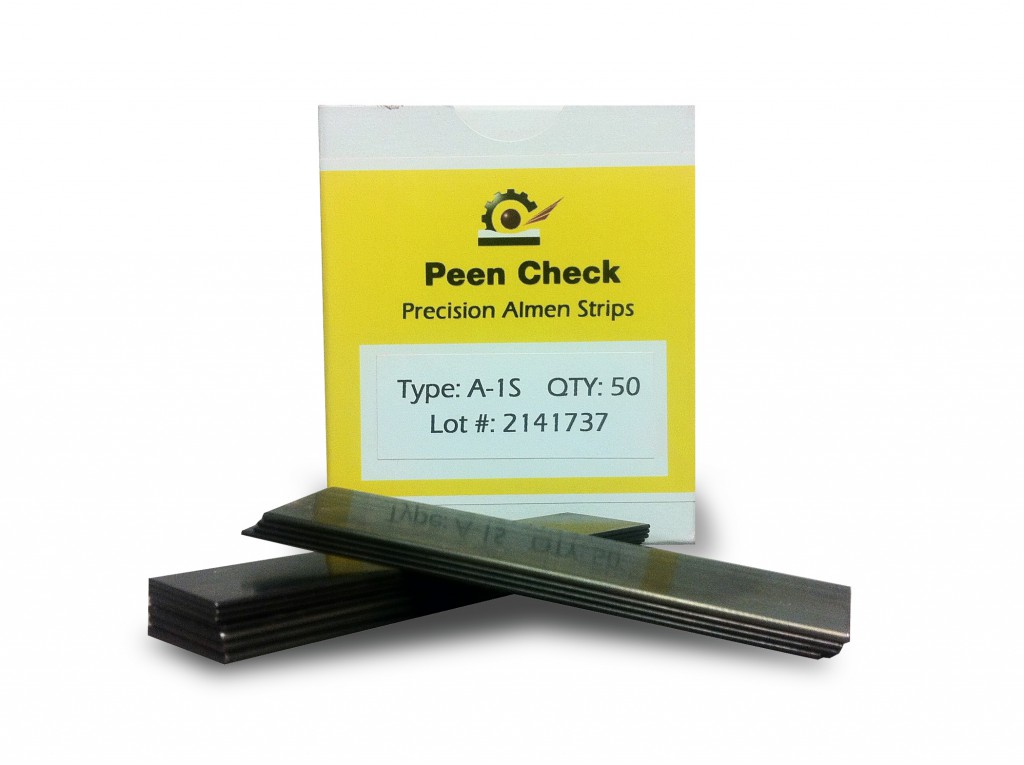 Details:
We have "Approved Supplier Status" with Bombardier. PeenCheck almen strips are manufactured to meet AMS S-13165-C and SAE J442 specifications for size, hardness, and flatness. Group 1 (N-1, A-1, and C-1) almen strips meet SAE J442 flatness limits and are inspected to +/- .0010″ flatness. All Group 1-S Special almen strips meet the requirments of Aeropsace Material Specifications AMS 2432 and are inspected to +/1 .0005″ flatness. All of our premium grade A, N, and C strips are extensively tested to ensure precise, clean, and repeatable tests. PeenCheck almen strips are coated in a light oil and packaged in boxes of 25 (C strips) or 50 (A and N strips). We also have the ability to add a heat/lot number to each individual strip.  A Certificate of Conformance is provided with each shipment.
Packaging Options:
Specifications: